Welcome to the Official Site for Baylie and Rylie Cregut. You may recognize Baylie and Rylie from Fox's hit comedy Raising Hope where they play the role of Hope. Here you will find all the news and up to date information about these talented young actresses. For Industry Professionals looking to learn more about Baylie and Rylie, please click on their names above for an overview of information.


NEWS & UPDATES
12 Feb 2015
Happy Birthday!
Baylie and Rylie are so
excited
today! It's no regular day for them, but one that is going to be spent celebrating and having fun for it's their
fifth
birthday!
Happy Birthday Baylie! Happy Birthday Rylie!
I hope you both have an
awesome
day today as everyone comes together to make your special day one to remember. Enjoy your cake, presents, and all of the things you do throughout the day to celebrate, being five is going to be pretty cool!
Happy Birthday
!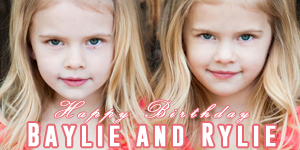 Posted by: Lisa
25 Dec 2014
Merry Christmas!!
Nothing beats the excitement and magic of
Christmas
. Baylie and Rylie were so happy when they woke up this morning and got to run to the tree and see what
Santa
had brought, then open presents and spend the day with their family. It is such a
wonderful
time of year and the girls would like to wish everyone celebrating today a
Merry Christmas
! May all of you have a holiday season filled with happiness and all the best in 2015!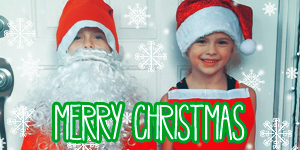 Posted by: Lisa
29 Nov 2014
Snapshots
What a busy few months it has been for Baylie and Rylie! They had a great summer full of adventures, time with family and friends, and of course, swimming! This fall they were in a soccer league, the girls did
fantastic
, and had a great time meeting many new friends and playing in their games. One of their favorite holidays, Halloween, was pretty awesome too! Decorations, pumpkins, costumes, and candy, they loved all of the weeks getting ready for the big night and going trick or treating.
Dead Elsa
and
Dead Belle
were a hit in the neighborhood. Now Christmas time is almost here and Baylie and Rylie are enjoying visits from their Elf Coco, and getting ready for the season and Santa's arrival. Snapshots from June-November have just been added to the gallery, and Baylie and Rylie hope that all of you had a
wonderful
Thanksgiving this past week!



Posted by: Lisa
22 Sep 2014
CMT
If you've been missing the
Chance family
as much as we have get ready to welcome them into your home five nights a week now!
CMT
will be airing back to back episodes of
Raising Hope
every night as part of their early evening line up. Whether you've missed episodes or want to relive the fun and laughs on the show this is a great chance to watch the series again. Make sure to visit their
website
for all of the times you can catch episodes throughout the week beginning on a regular basis tonight!
Posted by: Lisa
<< Previous Next >>