Welcome to the Official Site for Baylie and Rylie Cregut. You may recognize Baylie and Rylie from Fox's hit comedy Raising Hope where they play the role of Hope. Here you will find all the news and up to date information about these talented young actresses. For Industry Professionals looking to learn more about Baylie and Rylie, please click on their names above for an overview of information.


NEWS & UPDATES
27 May 2015
Snapshots
2015 has been a pretty great year so far for Baylie and Rylie! They celebrated their birthday, there's been some fun holidays, and as always, time with family and friends is the best! The girls latest interest is
mermaids
, on their birthday they had their
Ariel
tiaras and outfits, and they got mermaid fins for Christmas that are so cool! This season Baylie and Rylie have taken up softball, and have been enjoying getting out there at the diamond, batting, and being a part of their team. Snapshots from
December-May
have been added to the gallery so make sure to head on over to take a look!




Posted by: Lisa
23 Mar 2015
Colette Cugno & New Layouts
Welcome back to Baylie and Rylie's website! As you can see we have a brand new look, and the gallery and guestbook have received make overs as well. A big
thank-you
goes out to
Sarah
who put this new design together, and to
Colette Cugno
whose images of the girls can be seen in all
three
layouts! If you're still seeing parts of our previous design, make sure to refresh a couple of times for your browser to update what you are seeing. We hope everyone enjoys this fresh new look!
Last year, Baylie and Rylie had an
amazing
day shooting with
Colette Cugno
and the images came out
fabulously
! She captured solo shots of both Baylie and Rylie, as well as some fun twin images, and the girls totally rocked each of the different looks. They were full of smiles and giggles throughout their time with Colette, and it really is incredible how grown up they are, time sure does fly by!
Thank-you
to Colette for the super fun photoshoot, and make sure to view the images in the gallery.




Posted by: Lisa
12 Feb 2015
Happy Birthday!
Baylie and Rylie are so
excited
today! It's no regular day for them, but one that is going to be spent celebrating and having fun for it's their
fifth
birthday!
Happy Birthday Baylie! Happy Birthday Rylie!
I hope you both have an
awesome
day today as everyone comes together to make your special day one to remember. Enjoy your cake, presents, and all of the things you do throughout the day to celebrate, being five is going to be pretty cool!
Happy Birthday
!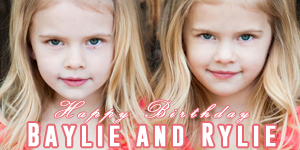 Posted by: Lisa
<< Previous Next >>