Welcome to the Official Site for Baylie and Rylie Cregut. You may recognize Baylie and Rylie from Fox's hit comedy Raising Hope where they play the role of Hope. Here you will find all the news and up to date information about these talented young actresses. For Industry Professionals looking to learn more about Baylie and Rylie, please click on their names above for an overview of information.


NEWS & UPDATES
18 Jan 2016
Snapshots
The second half of 2015 was quite the adventurous one for Baylie and Rylie. The girls are growing up so fast before our eyes and new snapshots from the last few months have just been added to the gallery. Not only did Baylie and Rylie take their first trip to
Knott's Berry Farm
where they enjoyed a fun day of rides, delicious treats, and making new memories as a family, but they had their very first day of
Kindergarten
! The girls were so excited to be going to elementary school, meeting new friends, playing with toys and learning lots of new things. They have been smiling and happy many mornings as they pose for pictures with their backpacks on and ready to see what the day will bring. Their favorite holiday,
Halloween
, was of course a fun night and they enjoyed decorating, pumpkin picking, and more as they got ready for October 31st. What a fun year 2015 was and now to see what excitement 2016 is going to bring!



Posted by: Lisa
25 Dec 2015
Merry Christmas!
Santa has made his list, checked it twice, and Baylie and Rylie have been really nice this year! The girls couldn't wait to get up this morning to see what
Santa
had brought, and now to enjoy the day with family and the traditions they have in their household for celebrating Christmas. The girls would like to wish everyone celebrating today a very
Merry Christmas
and may all of you, no matter what traditions you celebrate, enjoy the magic of the season, and all the best in 2016!
Posted by: Lisa
31 Oct 2015
Disguise Costumes
Baylie and Rylie are so excited for tonight! They absolutely love
Halloween
and cannot wait to get dressed up, go trick or treating and see all of the decorated homes throughout the neighborhood. Of course there will be some Halloween themed movies to round out the day, what a ton of fun! Not only did the girls get to do the
Kids of Horror
shoot with 22 Vision this Halloween, but Baylie also worked for
Disguise Costumes
! She modeled one of their new witch costumes and her image has surfaced! She can be seen laughing away for the camera, and maybe some of you even spotted her on the
product packaging
while shopping for your costumes this year. She loved the costume they had her wear, and the girls hope all of you have a spooky and exciting Halloween!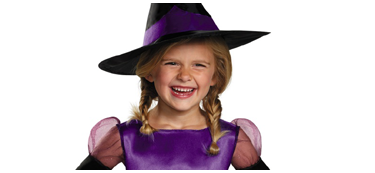 Posted by: Lisa
<< Previous Next >>