Welcome to the Official Site for Baylie and Rylie Cregut. You may recognize Baylie and Rylie from Fox's hit comedy Raising Hope where they play the role of Hope. Here you will find all the news and up to date information about these talented young actresses. For Industry Professionals looking to learn more about Baylie and Rylie, please click on their names above for an overview of information.


NEWS & UPDATES
25 Dec 2016
Merry Christmas!
Baylie and Rylie were up this morning so excited to see what
Santa
had brought them! They'd been decorating, helping wrap gifts, singing at school, and now the big day is finally here. They are looking forward to a fun day ahead with their family as they enjoy a nice meal, spend time together, and the girls cannot wait to play with all of their new toys too. They and their family would like to wish all of you celebrating today a
Merry Christmas
, and no matter which tradition you celebrate this time of year may this time bring you love and happiness. They
appreciate
all of the support you have continued to show throughout 2016 and now to see what 2017 brings!
Posted by: Lisa
19 May 2016
Snapshots
2016 has been pretty fun so far for Baylie and Rylie. They celebrated their
sixth birthday
...holidays such as St. Patrick's Day...and been busy smiling and making new memories with their family. The girls have started up
baseball
for the season, and absolutely love the game. School has been good too, and the best days of course are the theme ones where you get to dress up for your favorite sports team or there's "Wacky Wednesday" which is hilarious to get ready for. Some fun new
snapshots
have just been added to the gallery, Baylie and Rylie cannot wait for summer vacation to begin soon!
Posted by: Lisa
12 Feb 2016
Happy Birthday!!
After counting down the days, Baylie and Rylie are very excited that their big day is finally here! They cannot wait to celebrate an enjoy their first full day as
six year olds
.
Happy Birthday Baylie! Happy Birthday Rylie!
I hope you have a really fun day today with friends and family as everyone helps to make your special day one to remember. It feels like just yesterday you two were little babies and now you are all grown up, and having to hold up two hands when showing people how old you are, where does the time go. Have a
fantastic
day full of cake, presents, your favorite activities, and I hope that the wishes you make blowing out the candles on your cake come true.
Happy Birthday
!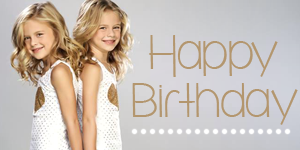 Posted by: Lisa